Essential Guide
Guide to business intelligence and health IT analytics
A comprehensive collection of articles, videos and more, hand-picked by our editors
How providers can harness big data in healthcare
Preventive care and monitoring feedback through social media are two opportunities for providers to make better use of big data.
FROM THE ESSENTIAL GUIDE:
The meaningful use program adds more specific reporting requirements for hospitals already tasked with storing and reporting data collected from a rising number of health IT systems. The increasing amount of data and reporting requirements has left many wondering if big data in healthcare will lead to a better care experience for everyone involved.

Download this free guide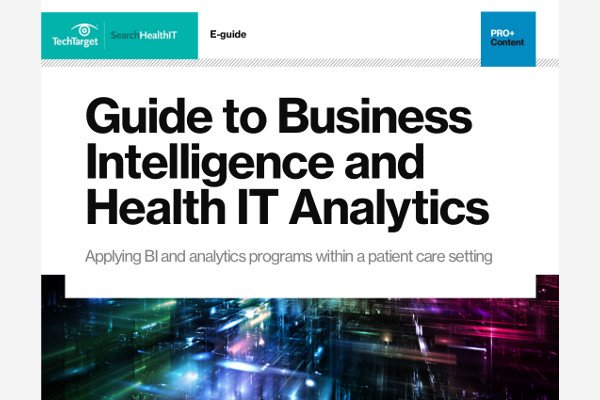 Download: Healthcare BI and Analytics Essential Guide
Get a compilation of tips and expert advice on how to apply analytics, business intelligence, and population health management programs within a patient care setting. Download our full essential guide on BI and analytics in healthcare now.
By submitting your personal information, you agree that TechTarget and its partners may contact you regarding relevant content, products and special offers.
You also agree that your personal information may be transferred and processed in the United States, and that you have read and agree to the Terms of Use and the Privacy Policy.

When hospitals began to adopt electronic health records, there was a significant growth in the amount of patient data -- most of which was stored and confined to the EHR system. With the addition of medical imaging and lab data, patient information still stemmed from a limited set of sources. As healthcare organizations continued to adopt newer systems that provide additional assistance in managing patient care, more information and data silos were brought to the equation.
Then, social media was added to the mix and introduced a completely different data source as hospitals began to consider additional means to improve patient satisfaction. Data collected from patients' mobile health devices is likely to be more disruptive and more rewarding than information sourced from social media. The proliferation of connected mobile and medical devices and the growing trend of Internet-enabled gadgets are challenging many technology professionals to identify new methods for hospitals to harness this data.
The massive quantity of data that can be mined from all of these systems presents a challenging, but promising, opportunity. There are several ways which patients and providers can benefit from this data.
Patient outcomes
Data collected from patients' mobile health devices is likely to be more disruptive and more rewarding than information sourced from social media.
Hospital data can provide significant insights into a patient's conditions and treatment outcomes. There a number of analytics tools that can process health data including medical imaging, electronic health data or genetic data. Tools offered by vendors such as IBM, Optum and SAS can assist with identifying at-risk patients, or reporting on patient outcomes. Other tools offer a way to process hospital data and push it to medical research registries in order to make it available as part of a bigger data repository for population health research.
Patient satisfaction
Monitoring and analyzing messages and feedback from social media is a way to keep up with patient needs, likes and dislikes. These messages can be about a health system, specific concerns about their care or other healthcare processes.
Evidence-based clinical decisions
Access to lab results, medication and other information allows clinicians a chance to more thoroughly research different treatment avenues before deciding how to care for a patient with a unique set of conditions or medical history.
Predictive outcomes and prevention
Mobile devices and connected medical devices produce a significant amount of data that can help caregivers monitor and proactively help prevent a patient's condition from worsening. This can be done by setting alerts to trigger when captured data meets pre-determined conditions.
Cost used to be one of the main hurdles for many considering adopting a big data platform, either in hiring the necessary personnel or acquiring analytics tools. Today's marketplace has seen a tremendous increase of vendors, which has driven costs down significantly. As there are more success stories of hospitals improving care and reducing costs through big data, data analytics will gain momentum, putting all the new captured data to good use.
About the author:
Reda Chouffani is vice president of development with Biz Technology Solutions Inc., which provides software design, development and deployment services for the healthcare industry. Let us know what you think about the story; email editor@searchhealthit.com or contact @SearchHealthIT on Twitter.
PRO+
Content
Find more PRO+ content and other member only offers, here.