freshidea - Fotolia
Four uses for artificial intelligence in healthcare
While there are challenges to AI in healthcare, the potential uses include advanced analytics and bots that help patients schedule appointments or provide medication reminders.
Looking for something else?
We surround ourselves with technology that is able to help us in our daily lives. The success of autonomous cars, advancements in clinical research and personal digital assistants has shown the incredible potential of technology and how far it has come in recent decades. Despite the progress that many other industries have made, healthcare is likely to be the one market where artificial intelligence can truly have an impact that goes beyond convenience and positively affects human lives.

Download this free guide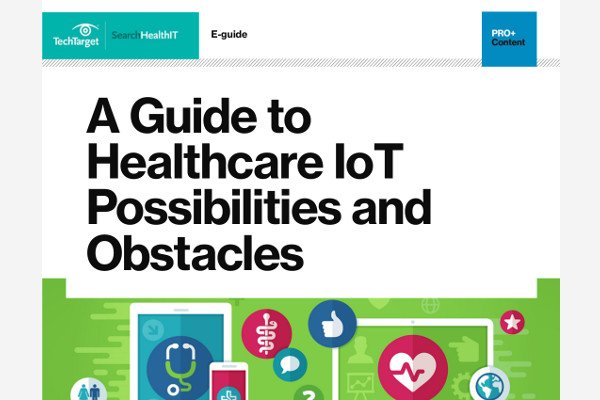 Download Now: Overcome Healthcare IoT Obstacles
The progression of healthcare IoT, or the Internet of Medical Things, is not without its challenges. Download a PDF of this exclusive guide now and learn how to overcome the obstacles: security, data overload, regulations, and more.
By submitting your personal information, you agree that TechTarget and its partners may contact you regarding relevant content, products and special offers.
You also agree that your personal information may be transferred and processed in the United States, and that you have read and agree to the Terms of Use and the Privacy Policy.

Artificial intelligence (AI) is defined as the science and engineering of creating intelligent computer systems that are able to perform tasks without receiving instructions directly from humans. These computer systems use a number of different algorithms and decision-making capabilities, as well as vast amounts of data, to provide a solution or response to a request.
Today, more than ever, many technology vendors are making significant investments in AI to ensure they are able to offer solutions and services that can use the technology. Microsoft, Google, Apple, IBM and Amazon, to name a few, have all adopted and fully committed to AI and are already providing these services to consumers.
Anytime a new technology enters healthcare, there are a number of challenges it faces. Common setbacks of artificial intelligence in healthcare include a lack of data exchange, regulatory compliance requirements and patient and provider adoption. AI has come across all of these issues, narrowing down the areas in which it can succeed.
The most popular use of artificial intelligence in healthcare is in IBM's smart cloud, where Watson lives. The Watson platform has been used in a number of disciplines within healthcare including with payers, oncology and patient risk assessment.
There are a number of other applications within healthcare where AI can deliver incredible value, but healthcare executives must evaluate and see if they can adopt some or all of them in order to begin their journey in the AI space. The following are four areas in which artificial intelligence in healthcare is gaining steam.
Personal health virtual assistant
With most of today's U.S. adolescents, adults and seniors owning a smartphone, they are likely to have access to an intelligent personal virtual assistant on their device. The likes of Cortana and Siri are backed by powerful systems with robust AI capabilities. These systems have the potential to provide tremendous value when combined with healthcare apps.
Healthcare apps can be used to deliver medication alerts, patient education material and human-like interactions to gauge a patient's current mental state. The application of AI in the form of a personal assistant can have an incredible impact on monitoring and assisting patients with some of their needs when clinical personnel are not available.
Advanced analytics and research
The capabilities of AI do not stop at understanding human commands and knowing what type of response is needed. For example, AI has been used in many advanced use cases in oncology to help detect abnormalities in X-rays and MRIs, in genomics to perform complex processing and in precision medicine to provide assistance in creating highly customized treatments for individual patients.
In the example of IBM Watson, the AI has successfully applied its capabilities to process structured and unstructured patient data. In the field of oncology, IBM Watson can provide evidence-based treatment recommendations for cancer patients.
Personal life coach
Care providers who treat patients with chronic diseases recognize the importance of maintaining contact with their patients outside of the exam room. Several hospitals have introduced life coaching services as part of their overall care, but the cost of such services compared to the current shrinking reimbursements makes it difficult to sustain such programs.
However, with today's robust AI capabilities and mobile apps, patients can receive feedback on a number of data elements captured on their phone or wearable devices. Whether it relates to medication adherence or is simply a motivational voice that encourages fitness activities and healthy habits, AI as a personal life coach creates a customized experience for each individual patient and offers proactive alerts that can be sent back to physicians.
Healthcare bots
One of the new areas of AI that is beginning to gain adoption is in the field of customer service, and healthcare bots are likely to be available soon as part of what healthcare providers offer. A bot is an AI application patients can interact with through a chat window on a website or via telephone to receive help with their requests. Bots can be used in situations such as scheduling follow-up appointments with a patient's provider online. Other examples include when a bot helps a patient with their medication or billing needs. These use cases improve customer service; offer 24/7 assistance for basic requests, such as scheduling, billing and other clinical requests; and reduce the overall administrative costs for hospitals.
Today, some feel confident in trusting AI to drive them from point A to point B, but while healthcare is not ready to fully trust AI to independently diagnose patient diseases, advancements in machine learning and big data have contributed to healthcare by assisting in processing data and discovery insights much faster than humans can. AI, working alongside experienced clinicians, is likely to continue to be the current course for many healthcare organizations for some time, and until we can prove that AI has what it takes to accurately diagnose patients, the expansion of its current use in healthcare is likely to be a careful and well-planned process.
Dig Deeper on Health care business intelligence systems
PRO+
Content
Find more PRO+ content and other member only offers, here.