Essential Guide
Healthcare data storage options
A comprehensive collection of articles, videos and more, hand-picked by our editors
Develop a new PACS integration strategy to merge data
Many health care organizations are exploring PACS integration for storage of their medical images.
FROM THE ESSENTIAL GUIDE:
Most modern health care organizations use a picture archiving and communications system (PACS) for the storage and transmission of medical images. The primary benefit of PACS is reduced cost, in addition to many other benefits over traditional film-based imaging. Digital storage costs significantly less than purchasing and storing film. PACS has the added benefit of consuming less physical storage space than film-based images.

Download this free guide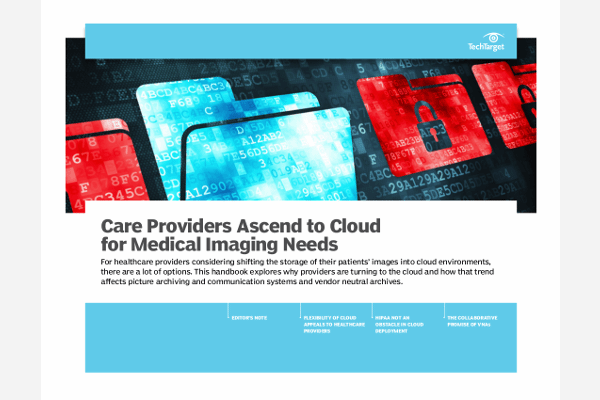 Download Now: Why Providers Are Turning to Cloud Storage
Regardless of your choice of VNA, PACS, or other image management technology, the cloud offers a chance to boost workflow and efficiency in your healthcare organization, while still ensuring compliance with HIPAA.
By submitting your personal information, you agree that TechTarget and its partners may contact you regarding relevant content, products and special offers.
You also agree that your personal information may be transferred and processed in the United States, and that you have read and agree to the Terms of Use and the Privacy Policy.

The use of PACS is not without its challenges in spite of these benefits. The disconnect between storing various types of medical data is perhaps the most significant of these challenges.
PACS are based on an open-ended standard that can be used to store all manner of medical images. Even so, it is somewhat rare for hospitals to have a single PACS for all medical imaging. Oftentimes hospitals have a series of mini PACS. For example, a hospital might have one PACS for ultrasounds and another for magnetic resonance imaging (MRI). The reliance on a series of disconnected systems is further complicated by the fact that electronic health records (EHRs) often reside in a completely separate system. This results in patient data being scattered across a variety of systems.
It would be tremendously beneficial for a hospital to integrate their various systems so patient data resides in a single location. Doing so can greatly reduce the complexity of managing and storing patient data, while also improving the overall quality of patient care. PACS technologies that support integration processes for PACS and EHR systems do exist, though they can be costly and complex.
A lot of planning must take place for PACS and EHR integration to be successful. The sections below outline some of the considerations that must be taken into account as part of the integration planning.
Merging patient data
How patient data will be merged is one of the first considerations that must be addressed. If a hospital has multiple PACS and separate EHRs, then each patient's data could conceivably be scattered across multiple systems.
Merging patient data might not seem to be a monumental task on the surface. After all, each system maintains a different type of patient data. However, there is a high likelihood that duplicate data will exist across systems. A PACS allows image-related documentation to be stored in PDF format alongside the images. These PDFs could exist in more than one place.
Data inconsistencies present a bigger problem. Even the most careful hospital is bound to have some inconsistent data. Something as simple as a misspelled patient name or a transposed digit in a social security number can lead to data consistency issues when it comes time to merge the patient data.
Choose a standard
Picking a starting point is perhaps the most important decision to be made. If an organization already has multiple PACS in place, then they will likely want to pick one of the existing systems to expand on and begin merging data from other PACS.
There are a number of considerations when picking a starting point. For example, the system that will be used should support standards such as Digital Imaging and Communications in Medicine (DICOM) and Health Level 7 International (HL7). Likewise, the system needs to be expandable. In most cases, this will mean building on the PACS in which the hospital has invested the most money.
Develop a nondisruptive implementation plan
One of the most difficult tasks in integrating PACS and EHRs is figuring out how to integrate in a nondisruptive manner. Hospitals are 24-hour-a-day operations in which lives are always on the line. Having patient data unavailable during the transition simply is not an option. As such, it is critical for the IT staff to develop merging procedures that will allow patient data to remain available throughout all stages of the transition process.
Perform the integration gradually
The integration process should be performed gradually, in spite of the immediate benefits of merging the various patient record systems. To see why this is so important, imagine that you were able to magically complete the entire process instantly. If that happened, chaos would become the order of the day. Medical personnel would have no idea where to find patient data.
Performing the integration process gradually will help the medical staff incrementally adjust to the change rather than being bombarded overnight with massive and disruptive change. Performing a gradual integration will also give you time to test each step of the integration process as you go, thereby reducing the number of issues that could potentially occur all at once.
The integration of PACS and EHRs can be beneficial because of its ability to simplify records management and enhance patient care. Even so, the integration process is a major undertaking that requires substantial planning.
Brien M. Posey, MCSE, is a Microsoft Most Valuable Professional for his work with Windows 2000 Server and IIS. He has served as CIO for a nationwide chain of hospitals and was once in charge of IT security for Fort Knox. Write to him at editor@searchhealthit.com or contact @SearchHealthITon Twitter.
PRO+
Content
Find more PRO+ content and other member only offers, here.