Biometric data captured by smartwatches call healthcare to mind
A new addition to the growing smartwatch market suggests a future for the devices as health-monitoring tools.
This Article Covers
RELATED TOPICS
Looking for something else?
TECHNOLOGIES

INDUSTRIES
Top electronics manufacturers are introducing smartwatches to the marketplace in hopes of dominating this brand-new field of consumer interest. As seen with mobile phones, many of the first companies to hit the market with the products have been able to capture public interest. Smartwatches are natural accessories to be paired with mobile phones. In fact, smartwatches hold one clear advantage over phones in the eyes of tech-savvy consumers: Their ability to be worn saves the user from having to remove the devices out of our pockets or purses.

Download this free guide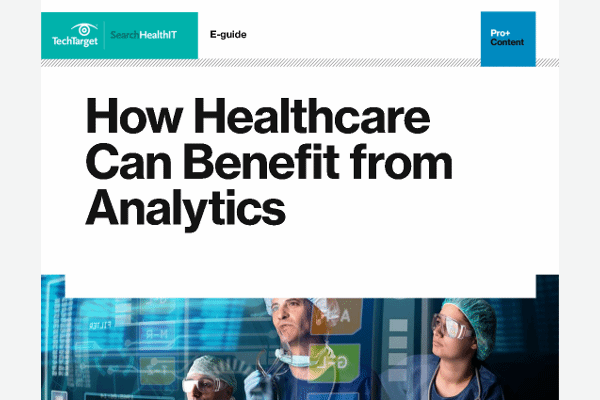 How Can You Reap the Benefits of Analytics in Healthcare?
Increasingly, healthcare organizations are leveraging analytics to gain insights that solve inefficiencies and streamline workflows. Access our guide now for the 6 components of a healthcare analytics plan, how to get employees invested in analytics, and more.
By submitting your personal information, you agree that TechTarget and its partners may contact you regarding relevant content, products and special offers.
You also agree that your personal information may be transferred and processed in the United States, and that you have read and agree to the Terms of Use and the Privacy Policy.

When evaluating new smartwatches entering the market, it's hard to overlook how these devices can be embraced and adopted by patients as a health-monitoring tool.
The automaker Nissan recently introduced a smartwatch called Nismo that interacts with both its cars and its drivers.
The Nismo device can do the following:
Monitor the efficiency of the car, including fuel consumption and average speed;
Interact with the car and process any specific vehicle alerts;
Capture biometric data through the heart-rate monitor;
Connect the car to a mobile app; and
Access vehicle data such as performance.
Smartwatches are among wearable health devices
The information above is likely to excite many Nissan drivers. It should also intrigue the healthcare industry because it's easy to imagine how its biometric functions could be applied to patients. Substituting a human body for a car, it's easy to imagine future patient smartwatches being able to perform the following:
Monitor daily exercise and caloric intake;
Receive health alerts related to blood sugar levels and other vital signs, particularly those related to any specific conditions with which the wearer is afflicted;
Capture biometric data such as heart rate, oxygen levels, blood pressure and other meaningful health data;
Send collected data to healthcare providers; and
Access analytics and reporting that provides feedback based on observations of data collected over time.
It is certainly interesting to see a car manufacturer venture into the wearable technology space, leveraging the growth in consumer interest in this space. This holds the promise that as these devices continue to see acceptance from consumers, people will also begin to accept their use within the medical space. As for Nissan's Nismo, the carmaker outlined future plans to introduce some health-monitoring features, including electrocardiogram and electroencephalography sensors, and a skin temperature gauge to measure a driver's hydration level.
Reda Chouffani is vice president of development with Biz Technology Solutions Inc., which provides software design, development and deployment services for the healthcare industry. Let us know what you think about the story; email editor@searchhealthit.com or contact @SearchHealthIT on Twitter.
Dig Deeper on Mobile health systems and devices
PRO+
Content
Find more PRO+ content and other member only offers, here.