Evaluate
Weigh the pros and cons of technologies, products and projects you are considering.
Analysis: Epic Systems Corp.'s big cloud gambit
Will Epic Systems Corp.'s massive data center give all health IT cloud vendors street cred? Also: CommonWell Health Alliance's interoperability moves.
FROM THE ESSENTIAL GUIDE:
The recent revelation about Epic System Corp.'s leap into cloud-based EHR hosting came as a surprise on some levels, but to seasoned health IT people, it was not entirely unexpected.

Download this free guide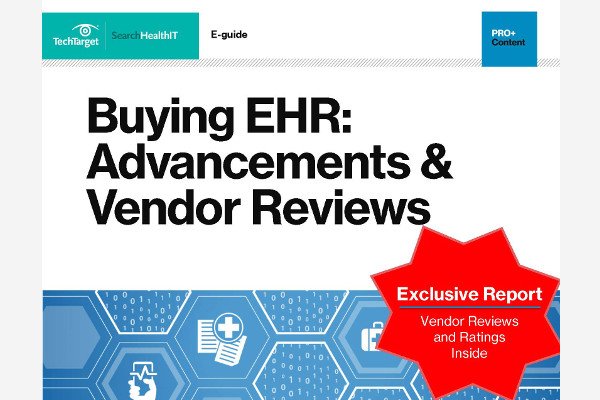 Download: Essential EHR Advice. PLUS, Epic, Cerner & More Product Reviews From Your Peers!
A recent SearchHealthIT survey revealed 41% of your peers are planning EHR upgrades in 2017. That's why we've compiled this 35-page e-guide, to review key features of EHR systems and explore how EHRs are adapting to consumerization, new care models, and other health IT trends.
By submitting your personal information, you agree that TechTarget and its partners may contact you regarding relevant content, products and special offers.
You also agree that your personal information may be transferred and processed in the United States, and that you have read and agree to the Terms of Use and the Privacy Policy.
SearchHealthIT news director Don Fluckinger and news and features writer Shaun Sutner, teammates on SearchHealthIT's HIT Squad podcast series, talk about how analysts see the Epic play both as smart business strategy for the Verona, Wisc., giant and as likely a legitimizing development as well for cloud EHR services in general.
Epic rivals such as athenahealth Inc. and Cerner Corp. dominate the cloud EHR space, and Fluckinger notes in the podcast how Epic's cloud foray could expand the market for all vendors -- that is, if Epic can find enough customers to fill up the bandwidth at its hosting complex under construction in Verona.
Fluckinger also points out that Epic founder and CEO Judy Faulkner told him unambiguously less than a year ago that her customers don't want cloud EHRs because, among other things, they're too expensive. Now, though, with the market for high-end healthcare system enterprise EHRs pretty well saturated, Epic appears to be going after smaller healthcare groups with its cloud offering.
Meanwhile, in the podcast, Sutner ties in a new move by the nonprofit interoperability consortium, the CommonWell Health Alliance (a club in which Epic pointedly is not a member) to offer patient identification and matching and privacy permissions services through a third party, RelayHealth, a subsidiary of CommonWell member McKesson Corp.
Cerner and athenahealth have already said they will provide the RelayHealth services free to their customers, at least for now.
Let us know what you think about the story; email Shaun Sutner, news and features writer, or contact @SSutner on Twitter.
PRO+
Content
Find more PRO+ content and other member only offers, here.