beawolf - Fotolia
News
Stay informed about the latest enterprise technology news and product updates.
Epic VP: Healthcare interoperability standards face challenges
When it comes to interoperability standards in healthcare, there are many barriers. One of Epic System Corp.'s vice presidents weighs in.
This Article Covers
RELATED TOPICS
Looking for something else?
TECHNOLOGIES

INDUSTRIES
When it comes to interoperability standards and data sharing in healthcare, Eric Helsher, vice president of client success at Epic Systems Corp., based in Verona, Wis., thinks the problem lies not with any single vendor or healthcare organization, but with the lack of industrywide operational and technical standards.

Download this free guide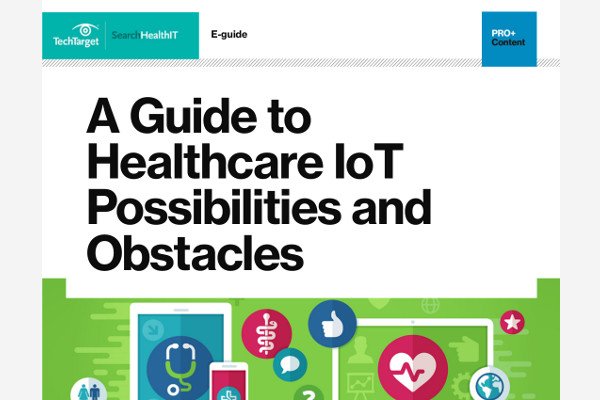 Download Complete Guide to Healthcare IoT Now
Healthcare IoT has the potential to greatly improve patient care – but it's not without its challenges. Download this essential guide in one PDF and learn how to overcome the obstacles: security, data overload, regulations, and more.
By submitting your personal information, you agree that TechTarget and its partners may contact you regarding relevant content, products and special offers.
You also agree that your personal information may be transferred and processed in the United States, and that you have read and agree to the Terms of Use and the Privacy Policy.
"I've seen organizations or providers, CIOs, they have to go above and beyond the current interoperability standards to do a more custom interface to share more information between those systems, because the industry as a whole has not yet come together on a complete set of technical standards, as well as clinical terminology standards," Helsher said.
And it will forever be a work in progress, he added, especially as new data is being captured in healthcare -- for example, when it comes to genomics or social determinates of care.
"What goes into an EHR will continue to expand," Helsher said. Therefore, "the need for consistent data standards will continue to grow as well."
Three areas to focus on to improve data sharing in healthcare
Helsher outlined three challenges that vendors, providers and others in healthcare need to work together to resolve if seamless data sharing in healthcare is to become a reality.
Operational policies
"All vendors and providers need to come together and adopt [a] policy framework," Helsher said.
This is why Epic is a member of Carequality, a public-private, multistakeholder collaborative under the Sequoia Project, he said, because all the members of this collaborative network have agreed to uphold a policy framework, "so that we can more seamlessly set up those technical connections without having to make one-off health systems agreements or agreements between health systems, I should say."
Technical interoperability standards
"There are enough technical standards for meaningful exchange today," Helsher said. "It will always be a work in progress."
However, Helsher said interoperability standards, such as HL7's FHIR, are very promising. He added that vendors like Epic, Cerner and athenahealth are part of the Argonaut Project, with the goal of enabling data sharing in healthcare -- including EHRs, documents and other health information -- based on the FHIR interoperability standards.
"We'll continue to develop more standards as an industry," Helsher said. "Continuously developing more and more technical standards for further interoperability so we can eventually get up in the 100,000 data elements."
Clinical terminology standards
We were the first to develop [interoperability and data sharing in healthcare], and we believe we exchange more patient records than any other vendor.

Eric Helshervice president of client success, Epic Systems Corp.
"Even if the technology can share lab data, which it can today, not all health systems use the same lab nomenclature," Helsher said. "So, that isn't as much of a technology issue as it is a healthcare industry challenge to adopt more consistent clinical terminology."
Helsher pointed out some progress in this area, including ICD-10 and the National Drug Code Directory. However, within other healthcare areas -- including lab data, blood pressure data, pain values and fall risk -- a variety of codes and terminologies are used, meaning if that data is to be shared between health systems, the data has to be normalized. "Which is more of a challenge than if those standards were consistent across the industry," Helsher said.
Helsher addresses Epic's data-sharing reputation
Epic is notoriously known for its lack of data sharing in healthcare, something many have written and talked about.
Does Epic deserve to have earned this reputation?
"Absolutely not," Helsher said. "We were the first to develop [interoperability and data sharing in healthcare], and we believe we exchange more patient records than any other vendor."
Helsher said Epic's customers exchange about a million patient records a day, three times more than the number of data exchanges happening this time last year.
"The growth is rapid and it's significant," Helsher said. "That includes exchanging with 60 other vendors' systems, like Cerner, like athenahealth, state and regional HIEs, [and] the government. We have more connections with the VA, Social Security Administration and Department of Defense than any other vendor. So, it's certainly not deserved."
Editor's note: This story has been updated to accurately reflect Eric Helsher's comments on the relationship between technical and operational standards and data exchange.
Dig Deeper on Establishing interoperable electronic health systems
PRO+
Content
Find more PRO+ content and other member only offers, here.