Essential Guide
CHIME CIO perspectives, advice on health IT issues
A comprehensive collection of articles, videos and more, hand-picked by our editors
CHIME CIOs advocate meaningful use stage 2 deadline extension
We sit down with senior CHIME members during National Health IT Week and learn why they asked for an extension of meaningful use stage 2 deadlines.
FROM THE ESSENTIAL GUIDE:
WASHINGTON, D.C. -- During National Health IT Week, a variegated group of health IT stakeholders got together to hold up megaphones and shout their causes to anyone who will listen -- especially legislators. EHR vendors, federal policymakers, healthcare providers and payers all add their perspectives to the din.

Download this free guide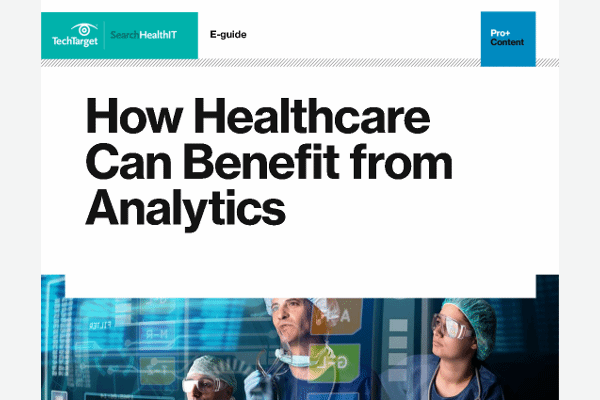 How Can You Reap the Benefits of Analytics in Healthcare?
Increasingly, healthcare organizations are leveraging analytics to gain insights that solve inefficiencies and streamline workflows. Access our guide now for the 6 components of a healthcare analytics plan, how to get employees invested in analytics, and more.
By submitting your personal information, you agree that TechTarget and its partners may contact you regarding relevant content, products and special offers.
You also agree that your personal information may be transferred and processed in the United States, and that you have read and agree to the Terms of Use and the Privacy Policy.

CHIME CIOs convinced 17 senators to take up their cause célèbre -- a one-year extension of meaningful use stage 2 deadlines.
Above all this noise, what do the health system CIOs -- who must implement all these policies and technologies -- think? We cut to the chase and interviewed three senior members of the College of Healthcare Information Management Executives (CHIME) as the group concluded its annual policy strategy meeting at the Henley Park Hotel.
After the meeting, the CHIME group made its way over to Capitol Hill, where they bent the ears of many legislators. The conversations bore some fruit: Since these interviews were conducted by SearchHealthIT, one of the CIOs' ideas -- an extension of meaningful use stage 2 deadlines -- was taken up in a letter from 17 Republican senators to HHS Secretary Kathleen Sebelius asking for just that.
"We are concerned that the onset of stage 2 may further widen the digital divide for small and rural providers who lack the resources of large practices and may not be vendors' top priorities," the senators wrote. "Even if certified products are available to them, simply receiving the software update does not satisfy meaningful use requirements for a hospital or eligible provider."
Next: Interview with Pam McNutt, senior vice president and CIO at Methodist Health System in Dallas.
Let us know what you think about the story; email Don Fluckinger, news director, or contact @DonFluckinger on Twitter.
PRO+
Content
Find more PRO+ content and other member only offers, here.