Feb 21 2012 2:23PM GMT
Posted by:
Beastwood

health IT innovation
,
HIMSS 2012
,
mobile health technologies
,
social media
,
Twitter
It's no surprise that the health care industry has needed an injection of new ideas for quite some time. At the Health Information and Management Systems Society's HIMSS 2012 conference in Las Vegas, Twitter co-founder Biz Stone shared some insight from his business and personal experience that many in the crowd seemed ready to apply to health IT innovation and entrepreneurship.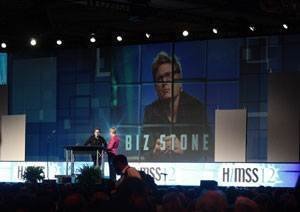 Bloggers Naveen Rao and Joseph Kim, M.D., both offer cogent summaries of Stone's main points, which can be categorized as either life lessons or assumptions.
Stone's life lessons, for the most part, may remind readers of a calendar of inspirational sayings — "opportunity can be manufactured," "creativity is a renewable resource," "to succeed spectacularly, be ready to fail spectacularly," etc.
One moral to apply to health IT innovation is to realize that "there is compound interest in altruism." Align a project with a cause, Stone said, and its impact will, in time, be realized.
Some of Stone's business assumptions wouldn't be out of place on the aforementioned calendar, either, including "the only deal worth doing is a win-win deal" and "there is a creative solution to any problem." Two key points here can apply to health IT innovation.
"We don't always know what's going to happen." Some of the greatest innovations — penicillin, the sandwich, tea — have been an accident or a spur-of-the-moment decision.
"There are more smart people outside our company." This is a point highlighted at the HIMSS 2012 Health Information Exchange Symposium, where speakers detailed how public health departments find value in working with HIEs that can offer everything from health IT infrastructure to data aggregation.
Twitter itself is beginning to play a part in health IT innovation, thanks, for example, to applications that mix mobile health and social fitness. Users have found that community interaction breeds accountability, with friends both congratulating and encouraging. Stone gave a shout-out to the FitBit, a device he (and others at HIMSS 2012) use to track a person's meals, workouts and weight loss.
In addition, as Emory Healthcare and Matthew Browning have demonstrated, Twitter also has applications in life-critical situations. In short, Browning was faced with a medical emergency, he began to communicate with Emory over Twitter, and the health care provider, as its case study points out, deemed it necessary to "immediately throw out the process flowcharts, remove all barriers, and act."
Whether other health care providers are as ready as Emory was to accommodate cases such as Browning's remains to be seen. Many may decide the ramifications of health care social media outweigh the benefits and, as a result, make it a health IT innovation not worth pursuing. Many may eschew the FitBit or other wearable medical devices if patients, physicians or both aren't taking them seriously enough to impact patient care. Many may find selling mobile health technology to the masses too difficult to be a worthwhile health IT innovation.
Despite the uncertainty, inviting Stone to speak at HIMSS 2012 seems like a good call. It's hard to discuss health IT innovation without mentioning social media, and it's impossible to discuss social media without mentioning Twitter. His thoughts, recycled though some may have been, needed to be shared.