Health information technology research: Purchasing intentions
Health care providers are preparing to align their health IT strategy around the steps required to meet the broad goals of EHR adoption, meaningful use criteria, health information exchange (HIE) and compliance with stringent data privacy and security rules. This was the overall theme of our winter 2012 EHR purchasing intentions survey.
In addition, providers are increasingly turning their attention to the next stages and trying to get a jump on how technology such as cloud computing might play a role in health information exchange and data analytics. This shows some progress from the previous year, in which readers detailed their specific struggles with meaningful use stage 1. Taken together, our reader surveys show a small shift beyond simply using EHR technology to trying to get the most out of it.
Health information technology research: Data analytics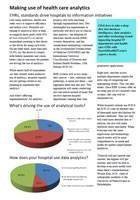 Clinical data analytics (used in patient-facing scenarios) and business intelligence applications (used for back-office functions) are important to hospitals as they expect to increase some spending in the next two years on new tools for areas such as supply chain management, HIE and predictive analysis of disease.
Exchanging data builds the foundation for turning around and using that data in a variety of ways. But just putting technology in place isn't enough, we found in our fall 2011 clinical data analytics and business intelligence survey. Health care practitioners have to feel comfortable using analytics and integrating those functions into workflow.
Health information technology research: Security
HITECH Act requirements have led to a surge in clinical application adoption, further supplemented by a wave of mobile devices offering providers flexibility in how they are access and use patient data. Updated HIPAA enforcement laws have accompanied this surge in technology adoption. Despite this more stringent environment, there seems to be a lack of urgency for figuring out how to achieve health IT security among providers who are confident they're already doing enough, we found in our summer 2011 health IT security survey.
Health information technology research: Mobile health
Mobile health, also known as mHealth, has emerged to take a lead role in defining health care transformation. Advocates believe mHealth adoption could help alleviate issues from an aging population and growing numbers of chronically ill patients to anticipated physician shortages.
Results from our 2012 mHealth survey of more than 230 CIOs, providers and other IT professionals indicate that mobile devices and applications are growing at a rapid rate inside health care organizations. IT managers would like to support these devices, but struggle to keep up with infrastructure and security needs involved in managing them.