JJ'Studio - Fotolia
Evaluate
Weigh the pros and cons of technologies, products and projects you are considering.
ONC focuses on creating interoperability between health systems
Although the creation of interoperability between health systems has been a goal for a while now, it's still not happening widely. ONC discussed plans to move interoperability forward.
This Article Covers
RELATED TOPICS
Looking for something else?
TECHNOLOGIES

INDUSTRIES
Efforts to create interoperability between health systems and stop data blocking have been going on for some time now. Although there are some isolated examples of interoperability in healthcare, in general, experts agree it still is not widely happening.

Download this free guide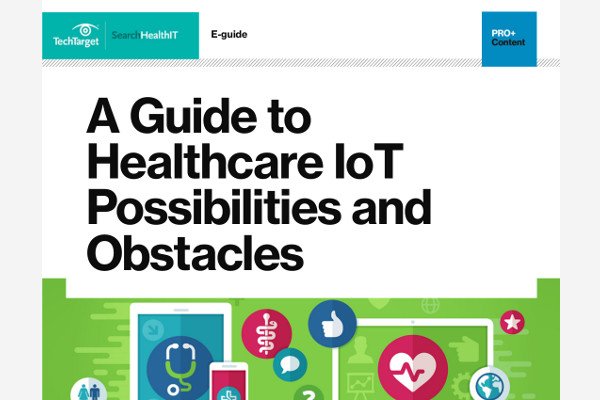 Download Complete Guide to Healthcare IoT Now
Healthcare IoT has the potential to greatly improve patient care – but it's not without its challenges. Download this essential guide in one PDF and learn how to overcome the obstacles: security, data overload, regulations, and more.
By submitting your personal information, you agree that TechTarget and its partners may contact you regarding relevant content, products and special offers.
You also agree that your personal information may be transferred and processed in the United States, and that you have read and agree to the Terms of Use and the Privacy Policy.
In a call with reporters, officials from the Office of the National Coordinator for Health IT (ONC) discussed the federal entity's role in promoting and creating interoperability between health systems.
Donald Rucker, M.D., national coordinator for health information technology at ONC, said the agency is focused on three interoperability use cases. The first is enabling health information to move from point A to point B, regardless of location or IT system. The second is enterprise accountability. This use case mainly addresses "complaints about 'I can't get my data out of a system,'" Rucker said. "That bulk transferability, that sort of fundamental data liquidity and ... data in bulk so you can actually do analytics on it and see what's going on overall." And the third is competition and modernity. "And that's open APIs," Rucker said. "You look at Silicon Valley, you look at modern computing, if you go to any of the modern computer science conferences it's all about APIs."
The challenge is a lot of these things are far more than just standards.

Donald Rucker, M.D.national coordinator for health information technology, ONC
Genevieve Morris, principal deputy national coordinator for health information technology at ONC, explained that, because of the use cases Rucker cited, ONC is tweaking its interoperability roadmap.
"The way that we're thinking about interoperability right now is basically four targets: technical, trust, financial and workforce," she said.
The roadmap to interoperability
"The challenge is a lot of these things are far more than just standards," Rucker said, explaining that business relationships tend to complicate things as well.
Rucker used problem lists -- a list of patient's ailments -- as an example.
"It can accrue over time. [For example, the patient] had a cold in 1955, right? Do they still have a cold? Probably not. So you have to curate it," Rucker said. "It's often said, 'I don't have a shareable problem list. I don't have an interoperable problem list'. ... We don't have a business model to keep the problem list up to date and meaningful."
Rucker's point is that, when people talk about interoperability between health systems, they're often talking about many different issues. "They're often asking for a whole bunch of other stuff as well," Rucker said. "They're asking for data curation, and maybe a part of the goal of ACOs and HMOs and value-based payments is to provide incentives for these things, but we're not there yet."
Underneath all of this is one question, Rucker said: "Are we going to pay for structure?"
"Is it going to be free text and maybe we throw in natural language processing or machine learning or you just read it?" Rucker said. "We're trying to be mindful of that, we're trying to be mindful, if you will, of the physics of information and what is plausible to regulate, what society has to sort out, what payment mechanisms we have to sort out."
APIs: It's complicated
Some laud APIs as the key to interoperability between health systems. But Rucker says it's a bit more complicated.
"Two things to consider: One is the API on the vendor level, right? The technical support for the EMR vendor. The second is what does an open API mean at the provider level? Open API sort of gets thrown around, but potentially they are very different approaches," he said.
Rucker explained that while an open API from a vendor, for example, is a set of tools enabling access to information, that information actually sits in the databases of the healthcare providers. And this is where the complexities come into play, despite APIs enabling access to information.
"So if I'm a Silicon Valley app developer, I can't hook up to some large national EMR vendor because they don't actually have any of the clinical data," he said. "The data is all sitting in, you know, pick your hospital system, pick your provider. So that's really the dichotomy."
ONC's role in preventing data blocking
From a regulatory point of view, creating boundaries around data blocking can be tough, Rucker said.
"A large part of our work is coming up with language that meets everyone's needs here and that's a difficult task," Rucker said.
He added that ONC can't simply mandate everyone throw away whatever systems they're currently using and implement a totally new IT system. "We have to be mindful of what's out there and what can be done," Rucker said.
Rucker pointed out, however, that the 21st Century Cures Act, a U.S. law enacted in December 2016, does include a data blocking reporting requirement. Meaning that when healthcare organizations experience or come across any instance of data blocking, they must report it to ONC.
"To the extent that information blocking exists, we're presumably going to see some set of reports from some folks on that," he said.
Dig Deeper on Establishing interoperable electronic health systems
PRO+
Content
Find more PRO+ content and other member only offers, here.