Mobile EHR drchrono needs no desktop, server PCs
Physicians looking to ditch their keyboards, laptops and servers have a meaningful use stage 2 certified mobile EHR that can be used on iPads in drchrono.
This Article Covers
RELATED TOPICS
Looking for something else?
What it does
Drchrono is the first meaningful use stage 2 certified native iPad EHR platform that operates on Apple iOS devices. The app contains custom forms and templates that can be modified according to physicians' practice and specialty.
Its automated note-taking and M*Modal speech-to-text support help overcome issues of touchscreen keyboards that would otherwise slow down patient care. The application also can assist with patient-clinician interaction, by displaying medical images. Add to that a "draw" feature that allows physicians to make freehand annotations over images to explain diagnoses visually.
Drchrono also offers custom electronic medical forms and templates, which enables providers to digitally capture patient information and find data in methods customized to workflow or specialty. Additionally, it offers automated patient check-in and automated appointment reminders and can conduct insurance eligibility checks. It also includes e-prescribing and can open patient access to billing information and payment systems.
Why it matters
Drchrono is certified as a complete EHR by the ONC-Authorized Testing and Certification Body and was certified as compliant with meaningful use stage 2 in June of 2014. It is a unique platform, leading mobile app trends in the BYOD culture of patient care. Daniel Kivatinos, COO and co-founder of drchrono, said in an interview with SearchHealthIT that the company focuses on the usability of the application, moving physicians into a paperless practice. He explained that he believes drchrono offers more than just access to electronic patient data; it simplifies care by providing multiple tools in one mobile application that can be built on existing platforms. Providers can use and customize existing templates or create clinical forms tailored for their personal practice.
"We're allowing anybody in the health industry or the tech industry to build on top of what they have," Kivatinos said. "We focus on mobile and how to make it most accessible."
What users say
Drchrono has everything needed to run an efficient multi-specialty and multiple location practice, said Timothy Duerler, M.D., a family physician who owns Mango Medical, a multi-location practice in Hawaii. Duerler said that the company chose drchrono because it was the only cloud-based, Macintosh-compatible EHR system that was easy to set up and had all the features they wanted.
Duerler said that the use of drchrono at Mango Medical has made providers' jobs faster and more efficient without affecting their patient interaction. "The iPad app is great because it allows a provider to have all of the information necessary when meeting with a patient," Duerler said."[It] can document findings, but still allows eye contact and direct interaction with the patient that a bulky computer in an exam room cannot do."
In addition to making physicians' practices easier, the app has benefits for patients as well. "They appreciate the automated schedule reminders, having all of their information with us, [the] OnPatient patient portal for sending documents and communication, and the speed and efficiency with which we can send out referrals and medical information to other providers' offices," he added.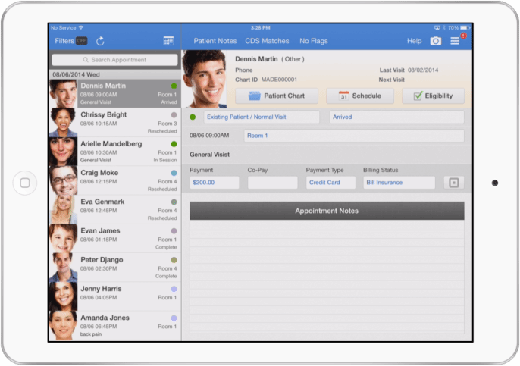 Drilldown
First native iPad ONC-ACTB and meaningful use stage 2 certified complete EHR.
Customized electronic medical forms, mobile check-in, speech-to-text and e-prescribing, among many other features.
Provides patient portal for clinical data, billing information and secure messaging. Interface should feel familiar to iOS app users.
Price
Drchrono works on a monthly or annual subscription basis. The company offers a free starting package that includes basic features, such as patient check-in and a limited amount of custom medical forms, among others. For premium packages with more features, the monthly cost of using drchrono ranges between $179.99 and $499.99 per provider, depending on the amount of features and services providers need for their practice.
Let us know what you think about the story; email Monica Vallejo, editorial assistant, or contact @HITExchange on Twitter.
Next Steps
Find out about mobile health apps for physical therapy
Learn about the potential of mHealth and what it has to offer
Dig deeper on Electronic health record (EHR) management