alex_aldo - Fotolia
Evaluate
Weigh the pros and cons of technologies, products and projects you are considering.
Essential population health management tools: HIE, CRM, data analytics
With population health management tools, one size does not fit all and that's why it's important to include a mixture of technologies including HIEs, CRM and data analytics.
Looking for something else?
TECHNOLOGIES

INDUSTRIES
When considering health IT at St. Barnabas Health System, the fifth largest healthcare system in the state of New York, "one size does not fit all," according to Jitendra Barmecha, senior vice president and CIO.

Download this free guide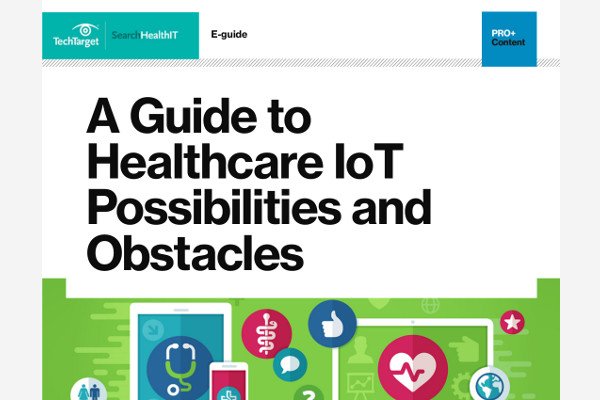 Download Complete Guide to Healthcare IoT Now
Healthcare IoT has the potential to greatly improve patient care – but it's not without its challenges. Download this essential guide in one PDF and learn how to overcome the obstacles: security, data overload, regulations, and more.
By submitting your personal information, you agree that TechTarget and its partners may contact you regarding relevant content, products and special offers.
You also agree that your personal information may be transferred and processed in the United States, and that you have read and agree to the Terms of Use and the Privacy Policy.
"We have a little bit different approach on the technology because of so many different groups of providers and organizations," Barmecha said in reference to population health management initiatives. This means that no one technology works for everyone.
St. Barnabas, which manages over 385,000 patients and over 220 healthcare organizations with 5,000 providers, manages not only a patient population but it also has an insurance program called Health First, Barmecha explained.
St. Barnabas is also participating in a New York state program called Delivery System Reform Incentive Payment (DSRIP) Program. The goal of this program is to reinvest in the Medicaid program with the primary goal of reducing avoidable hospital admissions by 25% over a five-year period.
Multiple population health management tools needed
Barmecha explained that population health requires more than one technology and while many people initially connect population health with claims, he emphasized that provider management is also an important aspect and needs to be included. Ultimately, this requires various population health management tools.
St. Barnabas is using a mixture of health information exchange (HIE) technology, customer relationship management (CRM) technology, and data analytics to run a successful population health management program and achieve the goal set out by the DSRIP Program.
Barmecha explained the various technologies at play:
Clinical platform: St. Barnabas is using Allscripts' clinical platform called Sunrise Clinical Manager. "All our ambulatory care networks have this same database as we have for inpatient and emergency room," Barmecha said. "It's a single database, same EMR for ambulatory care including our very large behavioral health, substance abuse [information] and our inpatient."
CRM: To engage the various organizations and providers that are part of St. Barnabas, "we needed a customer relationship management tool to house all their credential information, [and] performance metrics," he said. St. Barnabas is using Salesforce's CRM platform.
HIE and data analytics: St. Barnabas is leveraging its regional HIE, Bronx RHIO. "Several of our member organizations and providers are already inputting clinical data and they have received claims data from Medicaid as well as part of the pilot program," Barmecha said. "A majority of our analytics is being performed from Bronx RHIO as well."
Tech important to population health, MACRA
Barmecha said these technologies are important to population health for two reasons: managing day-to-day operations whether providers or patients, and seeing the outcomes.
Because St. Barnabas is participating in the DSRIP Program, it has very specific goals.
We have a little bit different approach on the technology because of so many different groups of providers and organizations … one size does not fit all.

Jitendra Barmechasenior vice president and CIO at St. Barnabas Health System
"The objectives are to reduce preventable admissions, preventable readmissions and ED utilization by 25% during this five-year period and in order to achieve those goals or objectives these technologies or the workflow or the processes and the people, I believe … are [all] equally important," Barmecha said.
He added that all these technologies are not only important to achieving a successful population health management strategy, but also to fulfilling the Medicare Access and CHIP Reauthorization Act of 2015 (MACRA) requirements which focus more on the provider side of healthcare. That's why having population health management tools to manage provider credentialing and maintain the database is important, Barmecha said.
"Although this is the first year for MACRA in terms of reporting … all these tools will definitely augment or help or assist our MACRA or MIPS strategy as we move forward," he said.
St. Barnabas experiencing benefits from this tech
Barmecha said St. Barnabas has experienced a few benefits since implementing these various population health tools.
One benefit was connecting providers within the St. Barnabas health system who had never talked to one another before.
"Through this, I would say, transformative process now we are connecting dots [and providers] so that it is very patient-centric transformational healthcare delivery," he said.
In addition, Barmecha said St. Barnabas has already seen a decline in volume of inpatient admissions.
"Not only in our health system but regionally," he said. "Because of the appropriate care coordination and care management we have moved [the] needle to decrease those inpatient admissions or preventable admissions."
Dig Deeper on Population health management
PRO+
Content
Find more PRO+ content and other member only offers, here.