Healthcare data storage options
A patient's medical history can include charts, images and physicians' notes. Finding the most efficient way to store these different types of data is a unique challenge for hospitals.
Introduction
Hospitals have many factors to weigh when choosing from among the large number of healthcare data storage options. One thing to consider is the kind of information that is being stored -- whether it's images, patient data or critical hospital information -- because that can dictate which storage method best serves the organization.
Though there isn't much federal regulation around medical storage, most organizations are proactively staying ahead of HIPAA's storage contingency plan requirement.
Cloud storage has been a hot topic in healthcare, but many facilities have found it to be an incomplete solution thus far. This guide is designed to help healthcare organizations safely navigate the maze of data storage options.
1

Healthcare storage tips

-
Tips for storing patient data and medical images
There are many data storage approaches available to healthcare facilities, including tiered storage, storage area network or SAN-attached storage. A picture archiving and communication system (PACS) is commonly used for storing medical images. Read the following tips to learn how facilities select and implement healthcare data storage options.
2

HIPAA storage

-
Implementing and maintaining HIPAA-compliant storage
The Health Insurance Portability and Accountability Act (HIPAA) only requires healthcare organizations to have a contingency plan in case of lost data, but many organizations still keep HIPAA in mind when considering storage options.

Download this free guide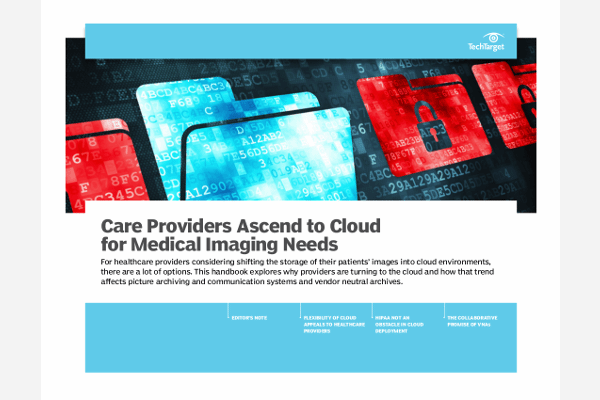 Download Now: Why Providers Are Turning to Cloud Storage
Regardless of your choice of VNA, PACS, or other image management technology, the cloud offers a chance to boost workflow and efficiency in your healthcare organization, while still ensuring compliance with HIPAA.
By submitting your personal information, you agree that TechTarget and its partners may contact you regarding relevant content, products and special offers.
You also agree that your personal information may be transferred and processed in the United States, and that you have read and agree to the Terms of Use and the Privacy Policy.
3

Cloud storage

-
When is cloud a healthcare data storage option?
Although it's not yet suited for all things healthcare, cloud is worthy of consideration for storing protected health information. Read why most organizations currently consider cloud storage a niche option suitable for tasks such as long-term storage of noncritical information.
4

Quiz

-
Storage backup for hospitals
Take this quiz to test your knowledge of storage laws and requirements.
Take This Quiz
5

Quiz

-
Adoption trends for cloud storage in healthcare
Take this quiz to measure your knowledge of healthcare data storage in the cloud.
Take This Quiz