News
Stay informed about the latest enterprise technology news and product updates.
A guide to healthcare IoT possibilities and obstacles
Introduction
The many uses of the systems and products that connect to the Internet of Things (IoT) are changing business in numerous industries. Patients and providers both stand to benefit from IoT carving out a bigger presence in healthcare. Some uses of healthcare IoT are mobile medical applications or wearable devices that allow patients to capture their health data. Hospitals use IoT to keep tabs on the location of medical devices, personnel and patients.
There are a few known enemies to the expansion of IoT in healthcare. First, there's the danger of overloading physicians with too much data and distracting them from their mission of treating patients. Some hospitals are still tweaking their security policies to keep up with the technological advancements of the BYOD and mHealth era. Stories in this guide explore how much securing healthcare IoT operations will add to an IT department's workload.
Healthcare IoT is visible enough that SearchHealthIT hosted a tweet chat on the subject. The chat was led by Rasu Shrestha, M.D., chief innovation officer at the University of Pittsburgh Medical Center, and attracted the opinions of healthcare professionals on how IoT can be applied in healthcare and what might stop it from achieving some of those projections.
1

Examples of healthcare IoT

-
Where healthcare IoT stands
Speaking to its popularity, healthcare IoT was seen in vendor presentations and displays at health IT mega-conference HIMSS 2015. IoT can be used to supplement patient treatment through remote monitoring and communication, and to keep track of patients as they move through a healthcare facility. Read on to discover the specifics of these IoT deployments.
2

Healthcare IoT challenges

-
What's holding healthcare IoT back?
The progression of healthcare IoT, or the Internet of Medical Things, is not without its challenges. Some physicians and health IT departments are still adjusting to using and securing mobile devices during work. Could IoT-derived data be too much for them to handle? The security of IoT is serious enough that a contractor for the Department of Homeland Security spoke about it at HIMSS 2015. This section also shows why healthcare's lack of standards and communication protocols around IoT put its development in jeopardy.

Download this free guide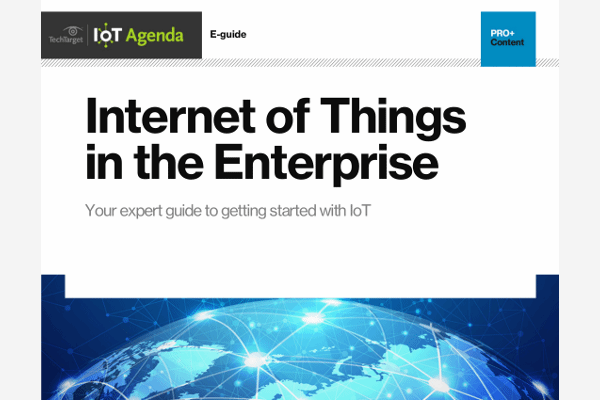 Download Now: 7 IoT Risks to Consider Today
The Internet of Things is not only a growing opportunity – it is also a growing threat. Learn about seven key IoT risks you must prepare for before implementing an IoT policy, plus the basic information all CIOs need to know before delving into an IoT initiative.
By submitting your personal information, you agree that TechTarget and its partners may contact you regarding relevant content, products and special offers.
You also agree that your personal information may be transferred and processed in the United States, and that you have read and agree to the Terms of Use and the Privacy Policy.
3

What's next for healthcare IoT

-
Healthcare IoT speculation and prognostication
Connected medical devices and applications are already part of the Internet of Medical Things. How much they will integrate into patient care and other aspects of healthcare remains to be seen. This guide section dives into how IoT can be used to collect share patients' biometric data and monitor them after they've been discharged from a hospital. Keep reading to see what other possibilities could be realized through healthcare IoT.