The International Classification of Diseases, Tenth Edition (ICD-10) is a clinical cataloging system that went into effect for the U.S. healthcare industry on Oct. 1, 2015, after a series of lengthy delays. Accounting for modern advances in clinical treatment and medical devices, ICD-10 codes offer many more classification options compared to those found in predecessor ICD-9.

Download this free guide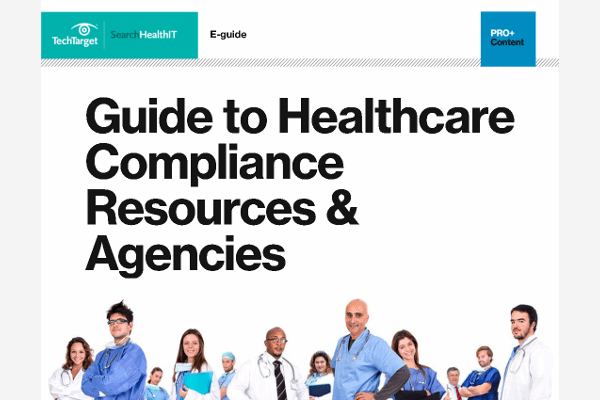 Healthcare Compliance Essential Guide Collection
OCR, CMS, ONC…the list of agencies and regulatory bodies that govern the use of health IT in the U.S. goes on. Download this essential guide collection now for an overview of these compliance resources, and make sure you stay compliant in this evolving health IT landscape.
By submitting your personal information, you agree that TechTarget and its partners may contact you regarding relevant content, products and special offers.
You also agree that your personal information may be transferred and processed in the United States, and that you have read and agree to the Terms of Use and the Privacy Policy.
Within the healthcare industry, providers, coders, IT professionals, insurance carriers, government agencies and others use ICD codes to properly note diseases on health records, track epidemiological trends, and assist in medical reimbursement decisions.
The World Health Organization (WHO) owns, develops and publishes ICD codes, and national governments and other regulating bodies adopt the system.
In the U.S., ICD-10 is split into two systems: ICD-10-CM (Clinical Modification) for diagnostic coding and ICD-10-PCS (Procedure Coding System) for inpatient hospital procedure coding. These U.S.-specific adaptions conform to WHO's ICD-10 layout while allowing for additional details found in U.S. healthcare. The U.S. took a similar approach with ICD-9-CM and ICD-9-PCS.
(Check out our video introduction to ICD-10 below.)
The ICD-10 code list greatly expands classification options.
For example, ICD-10-CM has 68,000 codes, compared to 13,000 in ICD-9-CM, according to the Centers for Medicare & Medicaid Services (CMS).
The ICD-10 conversion in the U.S. was delayed by lobbying, politics and general opposition to the increased amount of codes in the newer set. Here is a brief history of those delays:
Jan. 16, 2009 -- The U.S. Department of Health and Human Services (HHS) published a final rule establishing ICD-10 as the new national coding standard, with an adoption date of Oct. 1, 2013.
Aug. 24, 2012 -- HHS announced a delay in ICD-10 adoption from Oct. 1, 2013, until Oct. 1, 2014, to allow healthcare systems more time to prepare for the transition.
March 2013 -- At the 2013 HIMSS (Healthcare Information and Management Systems Society) meeting, a CMS administrator said ICD-10 would not be delayed past Oct. 1, 2014.
April 1, 2014 -- President Obama signed a Medicare reimbursement bill from Congress that included a delay in ICD-10 implementation from Oct. 1, 2014, until Oct. 1, 2015.
The U.S. used ICD-9 from 1979 to 2015. In those 35-plus years, supporters of ICD-10 said its predecessor has become obsolete, didn't account for modern healthcare practices, and lacked ICD-10's specificity for clinical diagnoses and medical device coding.
For example, if a patient broke a wrist, ICD-9 did not specify whether it was the left or right wrist, while ICD-10 offers either option. ICD-10 also presents additional details on when a patient is seen by a caregiver and how an injury or disease is progressing or healing. ICD-9's codes are based on three to five letters and numbers, while ICD-10's are based on three to seven letters and numbers.
Ironically, ICD-10 itself is 25 years old, having first been adopted by WHO in 1990. Some countries began using ICD-10 codes in 1994.
Meanwhile, the upcoming ICD-11 is under development now, and WHO will release the update in 2017.
Continue Reading About ICD-10
PRO+
Content
Find more PRO+ content and other member only offers, here.