Definition
Health and Human Services (HHS)
The United States Department of Health and Human Services (HHS) is the part of the federal government that's responsible for administrating programs that deal with health and welfare. According the official HHS website, the department works with almost one fourth of all federal government expenditures and administers more grant dollars than all other federal agencies combined. The Department's programs are administered by 11 operating divisions composed of eight agencies in the U.S. Public Health Service and three human services agencies.

Download this free guide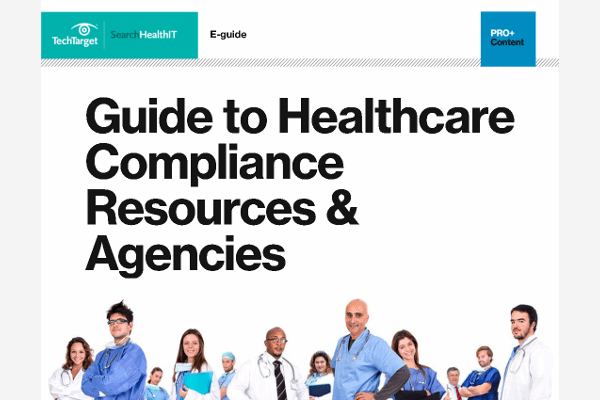 Download This Essential Guide to Healthcare Compliance Here
From HIPAA to meaningful use, learn how to remain compliant in the face of ever-changing healthcare guidelines. Download this whole essential guide in one easy-to-read PDF.
By submitting your email address, you agree to receive emails regarding relevant topic offers from TechTarget and its partners. You can withdraw your consent at any time. Contact TechTarget at 275 Grove Street, Newton, MA.
You also agree that your personal information may be transferred and processed in the United States, and that you have read and agree to the Terms of Use and the Privacy Policy.

National Institutes of Health (NIH) -- a medical research organization, supporting over 38,000 research projects nationwide in diseases including cancer, Alzheimer's, diabetes, arthritis, heart ailments and AIDS. Includes 27 separate health institutes and centers. (FY 2008 Budget -- $29.5 billion)
Food and Drug Administration (FDA) -- assures the safety of foods and cosmetics, and the safety and efficacy of pharmaceuticals, biological products, and medical devices. These products represent almost 25 cents out of every dollar in U.S. consumer spending. (FY 2008 Budget -- $2.3 billion)
Centers for Disease Control and Prevention (CDC) -- administrates a system of health surveillance to monitor and prevent disease outbreaks (including bioterrorism), implement disease prevention strategies, and maintain national health statistics. Provides for immunization services, workplace safety, and environmental disease prevention. (FY 2008 Budget -- $6.5 billion)
Indian Health Service (IHS) -- provides health services to 1.8 million American Indians and Alaska Natives of more than 560 federally recognized tribes. The Indian health system includes 46 hospitals, 324 health centers, 309 health stations and Alaska Native village clinics,and 34 urban Indian health programs. (FY 2008 Budget -- $4.3 billion)
Health Resources and Services Administration (HRSA) -- provides access to essential health care services for people who are low-income, uninsured or who live in rural areas or urban neighborhoods where health care is scarce. Also oversees the nation's organ transplantation system. (FY 2008 Budget -- $6.9 billion)
Substance Abuse and Mental Health Services Administration (SAMHSA) -- provides funding through block grants to states to support substance abuse and mental health services, including treatment for Americans with serious substance abuse problems or mental health problems. (FY 2008 Budget -- $3.4 billion)
Agency for Healthcare Research and Quality (AHRQ) -- supports research on health care systems, health care quality and cost issues, access to health care, and effectiveness of medical treatments. Also provides evidence-based information on health care outcomes and quality of care. (FY 2008 Budget -- $335 million)
Centers for Medicare & Medicaid Services (CMS) -- administers the Medicare and Medicaid programs. Medicare provides health insurance for more than 44.6 million elderly and disabled Americans. Medicaid, a joint federal-state program, provides health coverage for some 50 million low-income persons, including 24 million children, and nursing home coverage for low-income elderly. CMS also administers the State Children's Health Insurance Program that covers more than 4.4 million children. (FY 2008 Budget -- $606.9 billion)
Administration for Children and Families (ACF) -- administers the state-federal welfare program, Temporary Assistance for Needy Families, providing assistance to an estimated 4 million persons, including 3 million children. Administers the national child support enforcement system and the Head Start program for pre-school children. Provides funds to assist low-income families in paying for child care, and supports state programs to support foster care, adoption assistance and programs to prevent child abuse and domestic violence. (FY 2008 Budget -- $47.4 billion)
Administration on Aging (AOA) -- provides services to the elderly, especially to enable them to remain independent. Helps provide at-home services, meals on wheels and transportation. Supports ombudsman services for elderly, and provides policy leadership on aging issues. (FY 2008 Budget -- $1.4 billion)
THE U.S. PUBLIC HEALTH SERVICE COMMISSIONED CORPS (USPHS) -- uniformed service of more than 6,000 health professionals who serve in many HHS and other federal agencies. The Surgeon General is head of the Commissioned Corps. (FY 2008 Budget -- $1.4 billion)
Learn more:
HHS official provides an update on health IT adoption at HIMSS 2011.
FAQ: Which federal agencies administer the HITECH Act?
Find a checklist for HIPAA compliance.
PRO+
Content
Find more PRO+ content and other member only offers, here.