Definition
Health information technology (health IT or HIT)
Health information technology (health IT or HIT) is the area of IT involving the design, development, creation, use and maintenance of information systems for the healthcare industry. Automated and interoperable healthcare information systems are expected to lower costs, improve efficiency and reduce error, while also providing better consumer care and service.

Download this free guide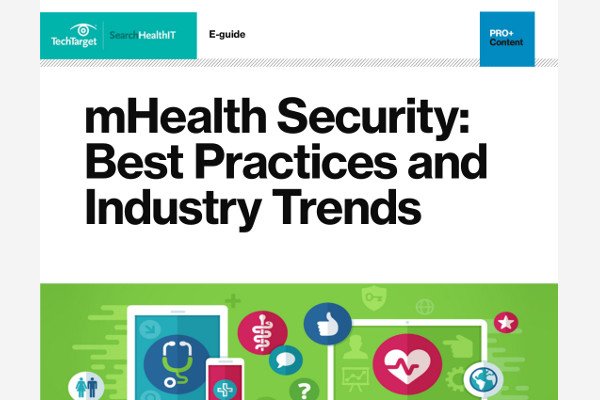 Download Our Guide: mHealth Security Best Practices
There's no doubt that mobile health technology improves patient care, engagement, and physician productivity. But, the security risks are vast. Learn how to protect your mHealth devices and data in this exclusive e-guide.
By submitting your email address, you agree to receive emails regarding relevant topic offers from TechTarget and its partners. You can withdraw your consent at any time. Contact TechTarget at 275 Grove Street, Newton, MA.
You also agree that your personal information may be transferred and processed in the United States, and that you have read and agree to the Terms of Use and the Privacy Policy.

Types of health information technology
The electronic health record (EHR) is the central component of the health IT infrastructure. An EHR or electronic medical record is an individual's official, digital health record and is shared among multiple facilities and agencies. The other essential elements of the healthcare IT infrastructure are the personal health record (PHR), which is an individual's self-maintained health record; and a Regional Health Information Organization (RHIO), which oversees communications among the other elements and unifies them geographically. A RHIO is a type of health information exchange, which is a group of healthcare facilities that enter an interoperability pact and agree to share data between their various health IT systems.
Implementations of EHR systems have increased dramatically in the past few years since the inception of the HITECH Act in 2009, which introduced the EHR meaningful use program. Physicians and hospitals that prove their use of EHR systems meets meaningful use criteria -- created and overseen by the Centers for Medicare & Medicaid Services and the Office of the National Coordinator for Health IT -- are eligible to receive incentive payments.
Picture archiving and communication systems (PACS) and vendor neutral archives (VNAs) are two examples of healthcare information technology that aid healthcare professionals in the storage and management of patients' medical images. Before deploying a PACS in a radiology department, a hospital should have a plan for how the PACS will integrate with other internal health IT systems. In some instances, VNAs have been installed as a way to compile and merge imaging data stored in separate PACS that are all part of the same, multiple-facility healthcare system.
Management of health IT systems
Due to the threat of patient data breaches, the introduction of new technology such as mobile health devices, and updates to health IT-related incentive programs and regulations, providers that adopt a health IT system know their work doesn't end after implementation. For example, numerous healthcare providers replaced one EHR with another after stage 1 of the meaningful use program in an attepmpt to better position themselves for stage 2 compliance.
Health information technology systems that handle protected health information (PHI) are subject to the Health Insurance Portability and Accountability Act (HIPAA) Privacy Rule, created and enforced by the U.S. Department of Health and Human Services. The rule gives patients access to their PHI and protects the privacy of their information by limiting access to it by other parties. A healthcare provider that experiences a breach of PHI can be given a fine by the HHS Office for Civil Rights.
Continue Reading About Health information technology (health IT or HIT)
Dig Deeper on Electronic health care systems, data centers and servers
PRO+
Content
Find more PRO+ content and other member only offers, here.