Definition
Centers for Medicare & Medicaid Services (CMS)
The Centers for Medicare & Medicaid Services (CMS) is an agency within the US Department of Health & Human Services responsible for administration of several key federal health care programs. In addition to Medicare (the federal health insurance program for seniors) and Medicaid (the federal needs-based program), CMS oversees the Children's Health Insurance Program (CHIP), the Health Insurance Portability and Accountability Act (HIPAA) and the Clinical Laboratory Improvement Amendments (CLIA), among other services.

Download this free guide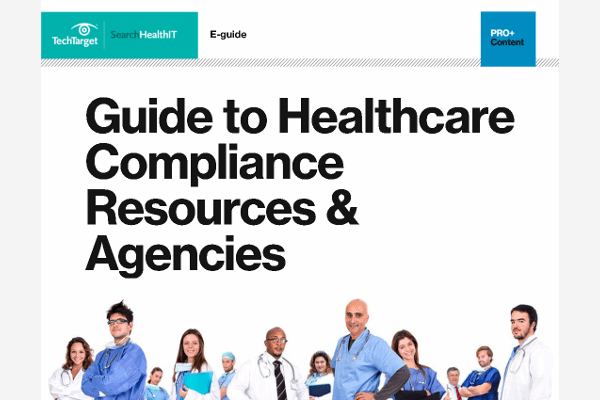 Download This Essential Guide to Healthcare Compliance Here
From HIPAA to meaningful use, learn how to remain compliant in the face of ever-changing healthcare guidelines. Download this whole essential guide in one easy-to-read PDF.
By submitting your email address, you agree to receive emails regarding relevant topic offers from TechTarget and its partners. You can withdraw your consent at any time. Contact TechTarget at 275 Grove Street, Newton, MA.
You also agree that your personal information may be transferred and processed in the United States, and that you have read and agree to the Terms of Use and the Privacy Policy.

With the passage of the HITECH Act on February 17, 2009, the CMS has been charged with several key tasks for advancing health IT, including the implementation of electronic health record (EHR) incentive programs, a definition for the meaningful use of certified EHR technology, the drafting of standards for the certification of EHR technology and the updating of health information privacy and security regulations under HIPAA. Much of this work is being done in conjunction with the Office of the National Coordinator for Health IT (ONC).
The meaningful use criteria were released by CMS on Dec. 30, 2009 in a document referred to as a notice of proposed rulemaking. The rules are open to public comment before final approval in 2010. Specification standards for EHR technology were released by the ONC in a separate report, referred to as an interim final rule, which is also open to public comment. Guidelines for the certification of EHR technology have yet to be released.
Learn more:
The CMS site includes a page listing the involvement of CMS in the HITECH Act.
SearchHealthIT.com spells out CMS criteria for the meaningful use of EHR technology.
FAQ: Which federal agencies administer the HITECH Act?
How to get meaningful use money and how to participate.
PRO+
Content
Find more PRO+ content and other member only offers, here.