Definition
Centers for Disease Control and Prevention (CDC)
The Centers for Disease Control and Prevention (CDC) is a federal agency that conducts and supports health promotion, prevention and preparedness activities in the United States with the goal of improving overall public health. Established in 1946 and based in Atlanta, the CDC is managed by the Department of Health and Human Services (HHS).

Download this free guide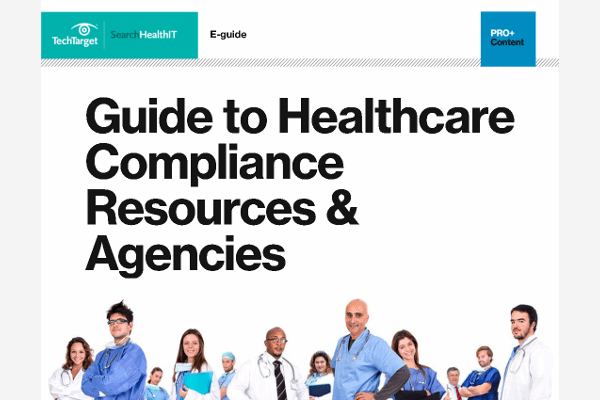 Healthcare Compliance Essential Guide Collection
OCR, CMS, ONC…the list of agencies and regulatory bodies that govern the use of health IT in the U.S. goes on. Download this essential guide collection now for an overview of these compliance resources, and make sure you stay compliant in this evolving health IT landscape.
By submitting your personal information, you agree that TechTarget and its partners may contact you regarding relevant content, products and special offers.
You also agree that your personal information may be transferred and processed in the United States, and that you have read and agree to the Terms of Use and the Privacy Policy.
The CDC works with partners at the local, state and national level to monitor and prevent disease outbreaks (including bioterrorism), implement disease prevention strategies, and maintain national health statistics. The agency also leads public health efforts to prevent and control infectious and chronic diseases, injuries, workplace hazards, disabilities and environmental health threats. The CDC focuses on the following five strategic areas -- increasing support to local and state health departments, improving global health, decreasing leading causes of death, strengthening surveillance and epidemiology, and reforming health policies.
The CDC's disease prevention efforts include educating the public on how to recognize and avoid contracting common infectious diseases, such as the flu and strep throat. The CDC also monitors outbreaks of chronic diseases, including Ebola, which are often met with updates from the CDC on how to recognize and combat possible symptoms.
For people who believe they might have contracted an infectious disease, the CDC website shares guidance on how to test for the disease and avoid spreading it to others before they can receive treatment. More in-depth directions for treatment, including possible quarantine, are available for patients and healthcare workers that may have been exposed to more potent viruses, such as Ebola.
The CDC recognizes the importance of health IT and invests in information systems for a wide range of public health functions. These include the Public Health Information Network, a project tasked with developing standards for sharing public health information, and BioSense, a bioinformatics surveillance system. The Office of the Chief Information Officer (OCIO) provides governance and oversight of CDC's IT investments.
The CDC, along with the U.S. Senate, is examining the safety of EHRs and common causes of errors in electronic healthcare systems. Interoperability between EHRs and other internal hospital resources, such as lab systems, has been targeted as an area that could use improvement. The Public Health-EHR Vendors Collaboration Initiative was created in August 2013 by the CDC and the Office of the National Coordinator for Health IT with a primary focus on helping providers meet public reporting requirements set by the first two stages of the meaningful use program. The initiative has taken on other missions, including how to use EHRs to track patients for signs of Ebola.
Continue Reading About Centers for Disease Control and Prevention (CDC)
PRO+
Content
Find more PRO+ content and other member only offers, here.