Evaluate
Weigh the pros and cons of technologies, products and projects you are considering.
Machine learning in healthcare cyber security boosts big data, intelligence
Machine learning is a hot topic in healthcare right now. One health IT expert told SearchHealthIT that he predicts machine learning and artificial intelligence will move quickly in the industry and be applied to many different use cases.

Download this free guide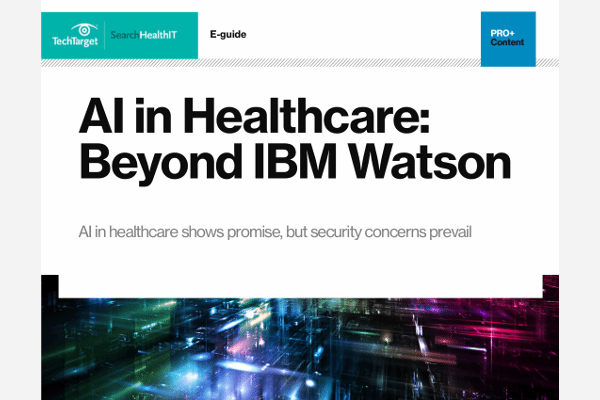 Download Now: Artificial Intelligence in Healthcare
AI in healthcare goes beyond IBM Watson. In this e-guide, discover 4 uses for AI in healthcare – particularly how it can help improve patient engagement – and whether we can overcome security and interoperability concerns surrounding the technology.
By submitting your personal information, you agree that TechTarget and its partners may contact you regarding relevant content, products and special offers.
You also agree that your personal information may be transferred and processed in the United States, and that you have read and agree to the Terms of Use and the Privacy Policy.
And it seems cybersecurity is one strong use case. Even at the upcoming HIMSS 2017 conference in Orlando, Fla., there are multiple sessions discussing the role artificial intelligence and machine learning in healthcare cybersecurity will play.
According to a report by ABI Research, a market research company based in Oyster Bay, N.Y., predicts that this trend of AI and machine learning in healthcare cybersecurity and cybersecurity in general will also boost big data, intelligence and analytics spending to $96 billion by 2021 in every industry sector including healthcare.
The report also said that the cybersecurity industry is heavily investing in machine learning with the hope of providing a more dynamic deterrent to cyberattacks.
"We are in the midst of an artificial intelligence security revolution," Dimitrios Pavlakis, Industry Analyst at ABI Research, said in a press release. "This will drive machine learning solutions to soon emerge as the new norm beyond Security Information and Event Management, or SIEM, and ultimately displace a large portion of traditional AV, heuristics, and signature-based systems within the next five years."
The report predicts that IBM will be a major player in this space — especially when it comes to machine learning in healthcare cybersecurity — and will transform the way enterprises employ machine learning.
"This radical transformation is already underway and is occurring as a response to the increasingly menacing nature of unknown threats and multiplicity of threat agents," Pavlakis said in the release.