Evaluate
Weigh the pros and cons of technologies, products and projects you are considering.
Internet of Things healthcare market to reach $136.8 billion worldwide by 2021
The use cases for the Internet of Things (IoT) in healthcare are many. Indranil (Neal) Ganguly gave three use cases for IoT in healthcare when he spoke with SearchHealthIT at HIMSS 2016: inventory management, workflow optimization, and medical device integration. And healthcare companies are working to create the technology necessary to make IoT happen.

Download this free guide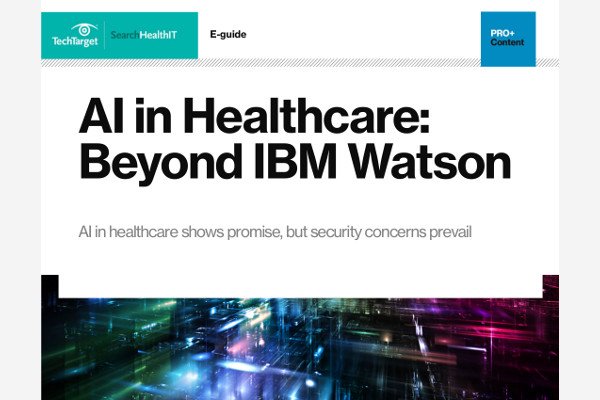 Download Now: Artificial Intelligence in Healthcare
AI in healthcare goes beyond IBM Watson. In this e-guide, discover 4 uses for AI in healthcare – particularly how it can help improve patient engagement – and whether we can overcome security and interoperability concerns surrounding the technology.
By submitting your personal information, you agree that TechTarget and its partners may contact you regarding relevant content, products and special offers.
You also agree that your personal information may be transferred and processed in the United States, and that you have read and agree to the Terms of Use and the Privacy Policy.
"I think we're going to see that increase over the next few years dramatically, but in general, hospitals are just scratching the surface with IoT," Ganguly told SearchHealthIT at HIMSS 2016.
A new report by Allied Market Research backs up Ganguly when he says that the use of IoT will increase dramatically in the next few years. The report predicts that by 2021, the IoT healthcare market will reach $136.8 billion worldwide.
The report attributes this growth—and the continued growth– to various phenomena:
Accessibility of wearable devices
The decreasing cost of sensor technology
The launch of technologically advanced devices such as smart shirts, smart lenses and smart bands
The rise in rates of chronic diseases
Demand for cost-effective treatment and disease management
Better access to high speed internet
Implementation of favorable government regulatory policies
However, IoT in healthcare is not without its barriers, the report said. High costs of IoT infrastructure, and data privacy and security concerns, to name a few, are some factors that could restrain the market growth.
Despite this, general growth within the world IoT healthcare market is expected to continue. The report projected that the fastest growing segment would be devices, that patient monitoring will continue to dominate, Fitness and wellness measurement applications will keep growing, and healthcare providers and patients will continue to lead the market.