News
Stay informed about the latest enterprise technology news and product updates.
Health IT figures into NIH's plan for national precision medicine research group
The National Institutes of Health's Advisory Committee to the Director (ACD) recently detailed a framework in a report for building a national research group of one million or more Americans to expand the knowledge and practice of precision medicine by utilizing genomics and big data analytics.

Download this free guide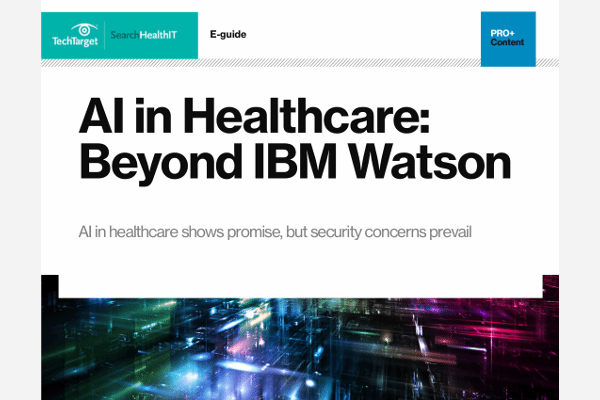 Download Now: Artificial Intelligence in Healthcare
AI in healthcare goes beyond IBM Watson. In this e-guide, discover 4 uses for AI in healthcare – particularly how it can help improve patient engagement – and whether we can overcome security and interoperability concerns surrounding the technology.
By submitting your personal information, you agree that TechTarget and its partners may contact you regarding relevant content, products and special offers.
You also agree that your personal information may be transferred and processed in the United States, and that you have read and agree to the Terms of Use and the Privacy Policy.
The opportunities this initiative presents, according to the agency, include the following technology-related aspects:
Using mHealth technologies to correlate activity, physiological measures and environmental exposures with health outcomes.
Empowering study participants with data and information to improve their own health.
NIH said it hopes to be able to build the infrastructure for this plan soon so that participants can begin enrolling in 2016, and the agency hopes to enroll at least one million people in three to four years.
President Obama proposed the Precision Medicine Initiative in order to advance the development of individualized care.
Francis S. Collins, M.D., the director of NIH, established the Precision Medicine Initiative Working Group with the goal of creating and managing a large group of research participants with data and specimens that can be accessed by all researchers, who would draw on this information to understand the variables that contribute to health and disease. The ultimate goal: Development of more effective treatments tailored to individuals.
The report also includes a strategy to allow any person living in the United States to voluntarily enroll in the study directly or through a participating healthcare provider.
Participants would volunteer to share core data such as EHRs, health survey information and mobile health data on lifestyle habits and environmental exposures. In return, they would have access to their study results and aggregated results from all study participants, and they would receive tools to make sense of the results, the NIH said. The agency would ensure participant privacy and security safeguards.
"Many factors have converged to make now the right time to begin this ambitious project," Collins said in a press release. "Americans are engaging in improving their health and participating in health research more than ever before, electronic health records have been widely adopted, genomic analysis costs have dropped significantly, data science has become increasingly sophisticated and health technologies have become mobile. We have to seize this moment to invest in these promising scientific opportunities to help Americans live healthier lives."