Health IT Meet the Editors
SearchHealthIT.com has a team of dedicated editors who bring you the best health care IT information from around the Web. Our staff searches the Web daily for the latest news and technology updates. We also keep in constant contact with users and top technical experts to bring you a constant stream of fresh, original content. Here's a look at who's behind the site: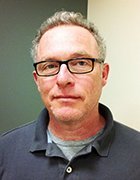 Shaun Sutner, news and features writer ssutner@techtarget.com
Shaun Sutner, a journalist with more than 25 years of newspaper experience, reports on information technology issues for SearchHealthIT. Sutner's newspaper career included investigative reporting and covering Massachusetts Statehouse and politics for the Worcester Telegram & Gazette. He has written about snow sports as a T&G columnist for a decade. Sutner's interests also include tennis and popular music.

Alex DelVecchio,site editor adelvecchio@techtarget.com
Alex DelVecchio is the assistant site editor for SearchHealthIT.com. He is responsible for updating the site's twitter account, homepage and general site maintenance. Prior to joining SearchHealthIT.com, he was an editorial intern for SearchSecurity.com. He holds a BA in Broadcasting and Electronic Communication from Marquette University in Milwaukee. Follow him on Twitter at @HITExchange.